Orchestra ushers in new season
Ensemble performs with Grammy-nominated musician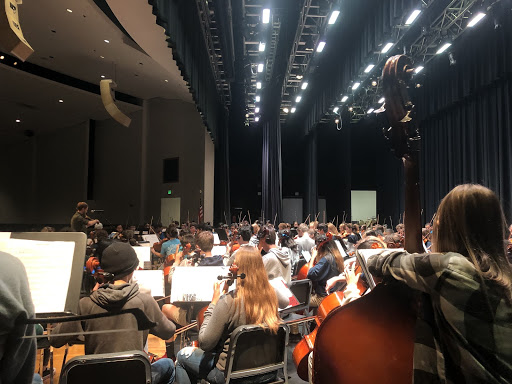 Orchestra debuted with its fall performance featuring Grammy-nominated musician Jeremy Kittel.
On Oct. 22, students spent the school day workshopping concert repertoire with the critically-acclaimed musician in preparation for the event later that night. At the performance, the orchestra accompanied Kittel in several compositions and received a standing ovation at the conclusion of the concert.
"[Kittel] asked us to return. He emailed me last spring and said he needed a fix of Virginia Beach and Ocean Lakes," said orchestra director Karey Sitzler. "He loved it when he came last time and wanted to come back."
During the concert, Kittel took a moment to recognize the orchestra for their efforts.
"This group here is my favorite group of the year," said Kittel.
Kittel made his first appearance in the 2016 fall concert where he instructed the orchestra on jazz music. At this year's concert, he focused on the Celtic style and bowing techniques.
"The previous workshop worked on percussion…whereas this one made you play with your bow more," said senior Roberto Marin.
Sitzler praised the chamber orchestra for their ability to prepare one selection in two weeks.
"They are rock stars because they are playing [their music] incredibly well," said Sitzler.