TikTok on the clock
New video-making app infiltrates pop culture
Uh-oh, stinky. Renegade, renegade. I got muscles like Superman's trainer. Go Demarcus!
While these phrases might evoke confusion in the mind of a normal person, most TikTok users, or TikTokers, as they call themselves, would begin to sing and or dance along. 
TikTok, a new social media video app meant for creating and sharing short lip-sync, comedy, and talent videos, has taken over pop culture. 
"I think TikTok is so popular with teenagers because of the way our humor is. The videos are all created by [mostly] Gen Z kids so we all can relate to the humor they're putting out," said senior Madelyn Pitcher. "I really like how [TikTok] is kind of the new Vine and how random and hilarious some of the videos are, even if a lot of them are cringy."
Through her trend and comedy videos, Madelyn has amassed a follower count of 23,000 and counting, which shows just how easy it is to get a bit of fame on TikTok. The app appears mostly easy to use, and encompasses a multitude of genres; On TikTok, previously titled Musical.ly, there is truly something for everyone. 
"TikTok makes it seriously hard to put down my phone," said sophomore Leiale Demant. "I personally make dancing videos or those trends that go around on the app. I'm pretty obsessed." 
According to their website, TikTok claims their mission "is to capture and present the world's creativity, knowledge, and precious life moments."
Some hail the app, launched in 2017 by Chinese developer ByteDance, as a cringefest, while some extol TikTok as Generation Z's version of Vine. 
"My favorite thing about [TikTok] is the fact that I can express myself in videos when I normally wouldn't in front of a crowd or in school. Normally I'm super shy and would choose not to put myself out there in public but online, I have no problem embarrassing myself," said Madelyn. "TikTok is by far my favorite app."
About the Writer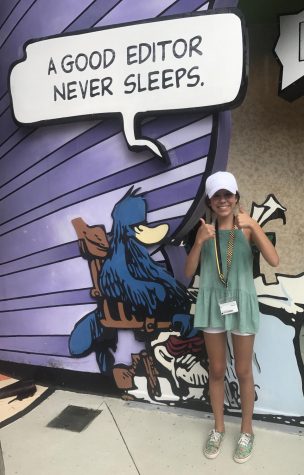 Abby Asimos, Editor-in-Chief
Abby Asimos, the Editor-in-Chief of The Current, is a senior and third-year journalist. She serves on Leadership Workshop staff, the Superintendent's...