CNU baseball commit shows extraordinary talent during his senior season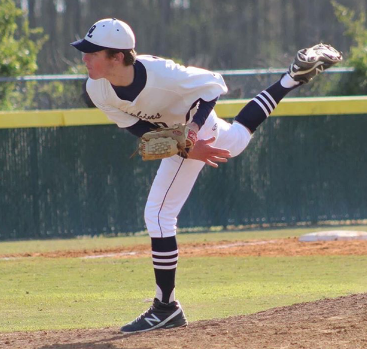 Senior Nate Clements is described by his friends as outgoing, caring, and one-of-a kind, but scrappy, tough, and hard working by his teammates. Nate has been playing baseball at Ocean Lakes for four years and has been on varsity for three.
"He is the epitome of a well-rounded player," said coach Peter Zell. "He is one of  the hardest working guys on the field, and sets an example for his team mates."
Nates' ultimate goal was to play in college, and he committed this past year to continue to play baseball at Christopher Newport University.
Overcoming failures has taught Nate to learn from his mistakes by keeping his head high and having a strong, positive mentality.
"Baseball taught me how to fail," said Nate.
On the field, Nate keeps his team in a positive state by not letting his teammates get down or frustrated with themselves, to keep a positive mindset, and to keep trying without giving up. Nate is hard on himself, but is a good supporter for his teammates..
"He's someone who is dedicated to the game, He leads by example," said sophomore Elias Negron.
In school, Nate is a member of the Math and Science Academy and works hard in and out of his academics. He has made all conference his sophomore and junior years. Nate is a pitcher and outfielder on the baseball field. His best memory in baseball was beating Grassfield in the Regional Conference game last spring.
"Nate is a rockstar, he works hard to be a good player," said Zell.