Walking in a winter wonderland
Dolphin Dash holds winter carnival as fundraiser
Hang on for a minute...we're trying to find some more stories you might like.
Dolphin Dash made a splash at the second annual winter carnival event to raise money for the LivON foundation in honor of former teacher, Brian Mann, who passed away last year due to colon cancer. The foundation raises awareness for colon cancer and was created in honor of Olivia Naples Bostic, wife of science teacher David Bostic, who also died from the same means.
"My biggest thing is to make more money than we did [last year]," said Dolphin Dash sponsor, Shirley Hall. "We raised $1,257.30 [from the dash] for 99forthe1 and $663.30 for Operation Smile [from the carnival]."
Last year, Dolphin Dash took on the challenge of creating a new event to fundraise for Operation Smile which resulted in a successful and fun event for the student body. Following the marks of last year, the club exceeded expectations of club sign-ups, featuring 20 different clubs created for students to participate in such as Spikeball Club, Class of 2021, Class of 2023, Investment Club, Operation Smile, and Model UN.
"We hope to carry over the fun environment from last year and have a better turnout," said Michelle Pham, volunteer chair.
As of right now, the club meets twice a week on Wednesdays and Fridays from 2:30 pm to 5:00 pm to prepare for the race that will be held on April 25, 2020. During the meetings, they contact potential sponsors for donations, paint banners for the corresponding donors, as well as create plans to increase involvement. They spend much of their time raising money through casholas and other events.
"We've already had three casholas and we are also going to be selling popcorn. All the money is to help us get ready for the winter carnival and dolphin dash; everything leftover will go to Livon foundation from all the major events," said Hall.
Dolphin Dash is led by senior Sophia Kuhn. As president, she hopes to have a large turnout for the 5k.
"We do everything we can just to get people to come and support [the cause.] We are always looking for volunteers and people are able to start signing up for the Dolphin Dash race," said Hall.
About the Contributors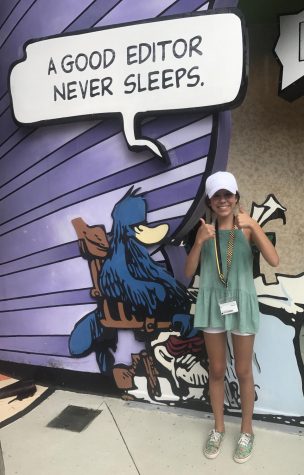 Abby Asimos, Editor-in-Chief
Abby Asimos, the Editor-in-Chief of The Current, is a senior and third-year journalist. She serves on Leadership Workshop staff, the Superintendent's...