The scrambling quarterback is the new normal in the NFL
Quarterback run-game boosts NFL entertainment and strategy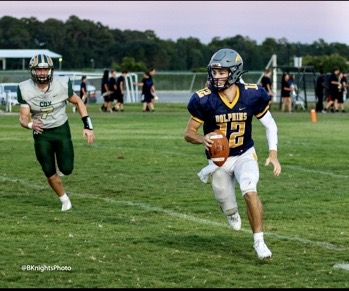 Patrick Mahomes, Lamar Jackson, Russell Wilson, Kyler Murray, and many young quarterbacks have one thing that has changed the NFL the past couple of years: the ability to run and extend plays as a quarterback. 
The ability to move outside the pocket as a quarterback has changed drastically over time and has almost become a necessity for teams, especially in the past three years. Texans quarterback Deshaun Watson, Chiefs quarterback Patrick Mahomes, and Ravens quarterback Lamar Jackson leave fans in awe after almost every game because of their style of play.
Extending plays is a talent that all quarterbacks must have which is enhanced by the addition of speed. Last year's MVP Patrick Mahomes does this the best; when pressured by the defense, he can throw a perfect pass downfield or run out of the pocket because he knows he could make a better throw.
Scrambling quarterbacks also add to the running part of the playbook, especially with this past season. This season, Lamar Jackson broke the record for most rushing yards in a season by a quarterback with 1,209 rushing yards. A running threat as a quarterback forces teams to keep a spy on him to keep him in the pocket. Also, a running quarterback improves the team's run game because the defense has to focus on both the quarterback and running back.
One of these quarterbacks' best traits is the entertainment they bring to the NFL. This past season, fans could not stop comparing Lamar Jackson to Michael Vick because of his running ability. 
Last season, Mahomes came out of nowhere and won the NFL MVP. This year, he was named the Super Bowl MVP.
Running quarterbacks are challenging defenses and changing the way we view the modern-day quarterback.