Foodie two-shoes
Junior dishes out love of eating
"Phone eats first." For junior Carson Roemer, an avid photographer and lover of food, this modern-day expression holds true. Carson, who serves as co-editor-in-chief on the Yearbook staff, takes professional-looking photos of even the most unprofessional food.
"I think I would consider myself an amateur foodie," said Carson. "Eating out is basically my hobby."
Foodies prioritize food and eat out of appreciation, not out of hunger.
"I've always loved eating out- ever since I was younger. My dad and I used to go to restaurants every Tuesday when I was in middle school, so that's when it started," said Carson. "Naturally, as the years went on and my interests and hobbies developed, I just started taking pictures of my food."
All his practice taking pictures for the yearbook prepared Carson well for his food photoshoots.
"My love for photography definitely blossomed in ninth grade, when I first started yearbook," said Carson. "I definitely have been able to take better-looking pictures and layouts of the food. Depending on where I am, I sometimes turn into that person who uses a legit camera to take pictures of their food. Those who get pressed just don't understand the grind."
Carson proceeds to post these photos on his social media, most commonly Instagram.
"Usually I post wherever I'm eating on my story because I think it's more fun that way, but sometimes I'll post them at the end of a photo string. I've been trying to branch out into other platforms, but it can be difficult, and a little intimidating as well," said Carson, who just recently launched a YouTube channel where he makes vlogs, tutorials, and mukbang videos.
From Mango Mango's crepes to breakfast at First Watch, Carson shoots it all.
"I admire how Carson will try almost any food," said senior Naia Smith. "His palate is very broad and eclectic, just how a foodie's should be."
Though he does acknowledge his hobby is definitely not a cheap one, Carson worked at Chipotle over the summer and saved money in an effort to afford his foodie lifestyle. 
"I think it's important for everyone to find something they love to do as much as I love eating out," said Carson. "It gives me a chance to decompress and destress, which I think all of us need amongst the stress we deal with every day. It's a great way to catch up with people and enjoy some time away from everything for a little."
About the Contributor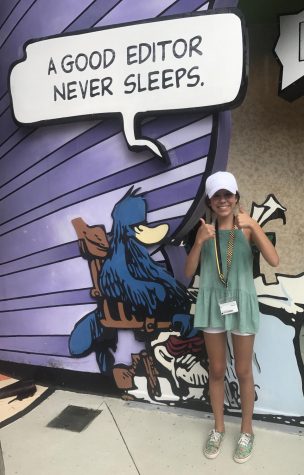 Abby Asimos, Editor-in-Chief
Abby Asimos, the Editor-in-Chief of The Current, is a senior and third-year journalist. She serves on Leadership Workshop staff, the Superintendent's...