NCAA playoffs need to expand
College Football Playoffs should consist of eight teams
With the current College Football Playoff format, if a team loses once then the playoffs often fall out of reach; the playoffs, therefore, need to expand to give all deserving teams a chance to earn a championship.
The modern CFPs began in 2014. The system states that the top four teams decided by the playoff committee are placed in a semi-final bracket for the coveted National Championship. 
Year by year, teams that win their Power-Five conference do not get a chance to play for the National Championship. In 2018, Ohio State crushed every team they played and even won the Big Ten but had a single upset loss to unranked Purdue. They ended up ranked sixth and were not given a chance to play for the championship. UCF also boasted two consecutive undefeated seasons but did not make the playoffs because they lacked a strong schedule. They most likely would not have won the championship, but they deserved a shot based on what they accomplished; these are the kinds of opportunities that can sculpt school culture and sports history.
When the NCAA season starts, about 90 percent of the teams have no chance of making the playoffs. Teams lose motivation during the season when they know they are not going to make it to the championship. 
The current playoffs take a mixed stance against big upsets; one regular-season upset can determine a team's fate which makes them crucial, but they do not give the smaller teams a chance to participate in the playoffs. This means that smaller teams play to hurt big teams rather than make their own accomplishments. 
An expansion would allow one and two-loss teams to make playoff runs. Therefore, not only would all Power-Five conferences receive representation, but there would be potential for Cinderella stories. The most memorable sports teams in history are the ones who defeated the odds, so why should the underdogs not get a chance?
Some may argue that expanded playoffs would ruin the bowl games, but frankly, the modern playoffs already have. 
According to Sam Khan Jr. and Kyle Bonagura of ESPN, 19 first or second-round players skipped their bowl games, creating irrelevant, unwatched games; however, when teams are in the playoffs, players never skip. Players will play if they have a shot at a ring, but if they do not care about a game then the fans will take no interest in them either.
If the NCAA wants higher ratings and revenue, they will expand the playoffs because big prospects are going to play and people are going to watch. 
The playoffs should consist of the champions of the Power-Five conferences, two at-large spots chosen by the playoff committee, and finally, the highest-ranked Group of Five conference champion. This gives any team a chance to reach the playoffs. If they win their conference, then they are in, and even if they do not, deserving teams will still be able to compete as a wildcard.
The modern playoff situation is exciting but unfair, and it has the potential to be much better. It is just a matter of time before expansion happens, regardless of the decided method.
About the Contributor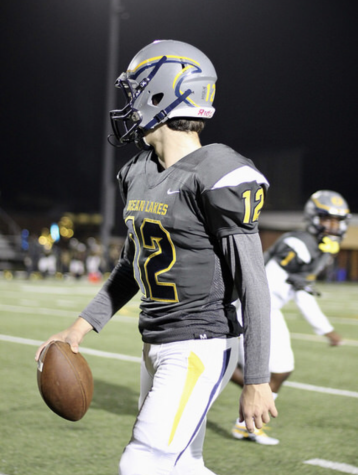 Josh Brown, Editor-in-Chief
Josh Brown is a third-year journalism student and Editor-in-Chief of TheCurrent. Josh plays Quarterback for Ocean Lakes and is an Eagle Scout in troop...