Gymnastics set sights on gold for state championship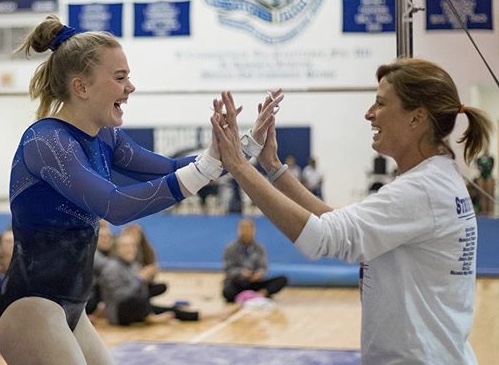 Gymnastics will head to the state meet this week, after a victory in the region 6A championship last Friday at Salem High School. Earning second place and falling just short of the state title last year, the lady dolphins plan to go for gold this time around.
Eight gymnasts from the team received an individual spot to compete to be one of the top four in the state, after receiving qualifying total scores. Brooke Gunter and Raleigh Moore both earned all around spots, competing as individuals in all four events. Others who received competition spots as individuals include: Samantha Lee and Shannon McLaughlin, with two events, and Kaya Dargusch, Bekkah Funderburk, Anna Harmon, and Autumn Torian, all competing in one event.
The team itself will compete against three other class six schools across Virginia for a chance to hold the region 6 champion title.
The meet will be held at Patriot High School in Nokesville, VA on Feb. 21 and 22. The Ocean Lakes team will compete together on Friday, while individual athletes compete on Saturday from 12 p.m. to 4 p.m.
"My expectations are the same for this meet as any other meet. To go out and do their best," said coach Jennifer Ramey. "They are physically prepared and mentally prepared; they just need to know in their heart that they can do it."