Death of a civil rights Titan, Supreme Court Justice Ruth Bader Ginsburg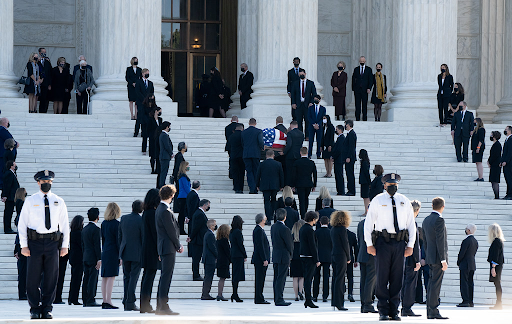 Upon the recent death of Supreme Court Justice, Ruth Bader Ginsburg, at the age of 87 on Sept. 18, 2020, Americans remember and pay tribute to her many contributions to the country and to the world. 
She graduated first in her class at Harvard Law School and later went on to teach at Columbia Law School. Despite these achievements, she still experienced gender discrimination in the workplace, finding it hard to be taken seriously or even obtain a job. Many considered her an inspiration to women and minorities, in a world dominated by white men.
RBG met and overcame every obstacle thrown at her.
She was "one of the most important justices ever to serve on the Supreme Court. Her 27 years on the court exceeded even my highest expectations when I appointed her. Her powerful dissents, especially her ringing defense of voting rights and other equal protection claims, reminded us that we walk away from our Constitution's promise at our peril. And she did it all with kindness, grace, and calm, treating even her strongest adversaries with respect," said former president Bill Clinton.
According to the late Supreme Court Justice Ruth Bader Ginsburg, much of her inspiration from her mom.
"My mother told me to be a lady, and for her, that meant be your own person, be independent," said Ginsburg.
Concerns about who will replace her seat on the Supreme Court of Justices have risen, including whether or not President Donald Trump should be allowed to choose her replacement with her death coming so close to the election.
"Ruth Bader Ginsberg was one of the most honorable, smart ladies of the feminist community, as well as one of the most influential and inspiring members of the Supreme Court. I don't know who will be her replacement, but I hope they are just as worthy and help in the fight for equality as she did," said sophomore Madison Mellon.