Boys swim snags state title
Dolphins claim Beach district's first 6A state championship
Boys swim put an end to Northern Virginia's championship streak and brought home Ocean Lakes' fourth state championship. Sophomore Bobby Dinunzio and senior Ryan Hillery led the boys to the beach district's first top-two finish since 2012.
"We all went crazy; it was an amazing experience. We were in disbelief," said senior Ryan Hillery. "I can't even put it into words; I couldn't believe it."
Amidst a shortened COVID-19 season, expectations going into the match held very little weight as most swimmers had yet to post their best times.
"I think some of the guys realized that they hadn't posted their best time due to the shortened season, and the times from the other teams were all over the place. I think going into the unknown might have helped us mentally. Nobody was looking for us, and we were kind of hiding because we didn't have any times to roll out there," said head coach Andrew Bedinger.
Regardless of the abbreviated season, the team's high school and club swim experience cemented their chemistry going into the meet.
"This year was a little bit different because we missed out on lots of the whole team experiences like dual meets and team parties, but the team culture was as strong as ever. We all swim on the same club team, so everyone at the state meet had been training together year round and fully supports each other," said Ryan.
The championship performance was fueled by Bobby Dinunzio's first place finishes in the 200-yard individual medley (1:52.39) and 500 freestyle (4:31.34). Hillery placed second in the 500 freestyle (4:37.09) in addition to a fourth place finish in the 200 freestyle (1:41.65).
"Those championship meets come down to relays, so you've got to have a deep cast of guys that are ready to swim fast and step up to the pressure," said Bedinger. 
The team's depth proved to be crucial as the Dolphins clinched the title with a third place finish for 32 points in the 400 free relay by Colin Mamaril, Lucas Barakey, Dinunzio and Hillery (3:09.91). A fifth place finish in the 200-medley relay (1:35.50) by Hillery, Dinunzio, Barakey and Matvei Isbell also contributed to the team's 183.5 points.
"It was never in the cards in the beginning [of my freshman year]. Seeing the team progress over the last four years was everything; we significantly improved our standing each year that we've been here. We went from like 25th my freshman year, to 15th, to eighth, to winning it my senior year," said Hillery. 
The remarkable turnaround is no happenstance and can be attributed to the team's hard work and leadership from coach Bedinger. With a young, promising team with returning prospects like Dinunzio, the Dolphins look to be a contender for years to come. 
"Success begins success," said Bedinger. "I feel really good [about the future], and I can't wait to have a regular season again. I'm already thinking and looking forward to next year for lots of swims and lots of times, so kids can get in the pool without all the restrictions that we've had this year due to COVID. There's a lot of young guys that didn't get to go to states that probably could've competed in states so we're gonna keep on rolling because it's gonna be fun."
About the Contributor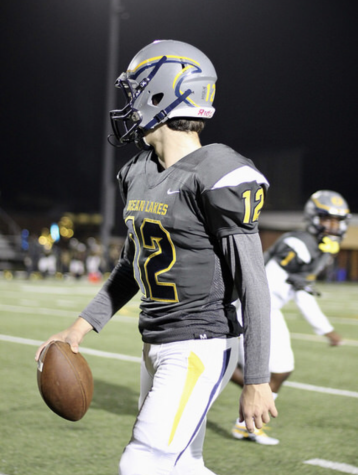 Josh Brown, Editor-in-Chief
Josh Brown is a third-year journalism student and Editor-in-Chief of TheCurrent. Josh plays Quarterback for Ocean Lakes and is an Eagle Scout in troop...