Ocean Lakes Theatre Company announces spring musical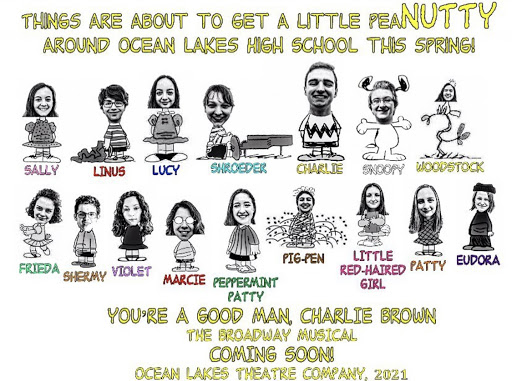 The Theatre Company announced their spring musical, "You're a Good Man, Charlie Brown," which is their first socially-distanced musical this year. 
The Theatre Company recently finished a murder-mystery comedy, "The Potman Spoke Sooth," on Wed., March 31.
"You're a Good Man, Charlie Brown" follows the many adventures of the Peanuts gang," said theatre sponsor Claude Blanchard. "It's based on the original comic strip by Charles M. Schulz, the various film adaptations, as well as the original 1967 Broadway production. We are producing the Tony Award-winning 1999 Broadway revival version."
Many of their traditional preparation methods, including auditions, have been complicated because they require close proximity for the actors during performances. 
"For the audition process, they asked us to record a five-minute video of us singing a song, and an acting moment," said junior Erin Jones, who is playing Sally in the show. "I sang one of Sally's songs and did one of her monologues in the show. Then you could do that for however many characters you wanted to try out for."
Rehearsal times are much shorter than usual since the theatre did not start until October. However, this show will be shorter than the past shows.
"It's a shorter production time," said senior Morgan Fine, who plays Snoopy in the show. "Usually, we would have a week of auditions in January or February. Then we would have around three months of practice and rehearsals to wrap everything up. This time we only have a month and a half.
The performance will be held online to prevent the spread of COVID-19. Information about the recording and its release will be announced at the beginning of May. 
"Of course, we would prefer to perform in front of a large crowd, but COVID has forced us to make concessions out of respect for the health of all our actors, crew members, and audience members," said Blanchard. 
Many students feel as if they are impacted by the pre-recorded performance since there would be no crowd.
"It'll be a little bit different performing because when you perform for an audience, there's a certain energy that it gives you," said Morgan. "As soon as you get out there with the audience and they're laughing or making noises or cheering, it gives you a certain energy that elevates the show in a way that you couldn't really get otherwise."
In order to be able to rehearse safely, the Theatre Company uses Zoom, an online chat platform. 
"Zoom will only be used for rehearsals – specifically the vocals. One of the greatest things about this particular show is that many of the numbers are solos or duets, so planning social distancing on stage isn't as complicated as with most large-scale musicals," said Blanchard. 
Despite all of these inconveniences, many of the actors are grateful and excited to be able to act with the company again.
"It's a strange sensation to do a lot of things online. I'm honestly happy to be doing it all, especially since I thought we wouldn't be able to do all of this in the first place," said Morgan.