New season begins for the Dolphins
The Dolphins kicked off their new season with a 27-0 win against the Cox Falcons. Their next game is Sept. 2 at home versus Kellam. With a full 10-game schedule ahead, the Dolphins have practiced since June and are ready to hit the field.
"What I'm most excited for in the upcoming season is being back on the field with my football family. We have created a family out there through the hours of practice and hot days on the field, so I'm excited to see what my football family can do this year," said senior, Hunter Dinsmoor.
The new head coach, James Yeager, came ready to lead at the first game on Aug. 27, and Principal Dr. Claire LeBlanc was impressed.
"I was on the sidelines, so I was watching. It was their first game, and I wanted to see how he coached, how he interacted with his coaches, how he interacted with his players. I thought he was emotionally in control. I thought that he had high expectations, and the kids understood that, and they rose to the level of that bar he had set," said Principal Dr. Claire LeBlanc, who attended their first game. "It was 14-0 at the half, and Cox could have scored. They turned the ball over, and he knew that. He kept the intensity level where it should have been, keeping his kids focused on the game."
About the Writer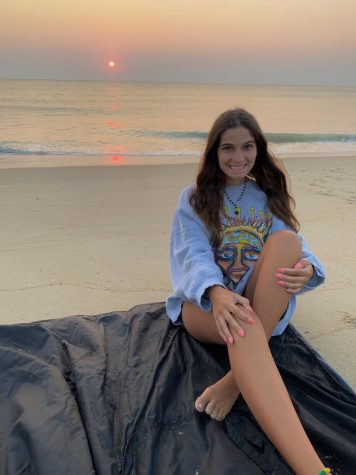 Alayna Caravas, Sports Editor, Social Media Editor
Alayna Caravas is a sophomore and a first-year journalist. Outside of school, she plays lacrosse and field hockey. She loves listening to music, going...