Sexuality and Gender Acceptance Club welcomes all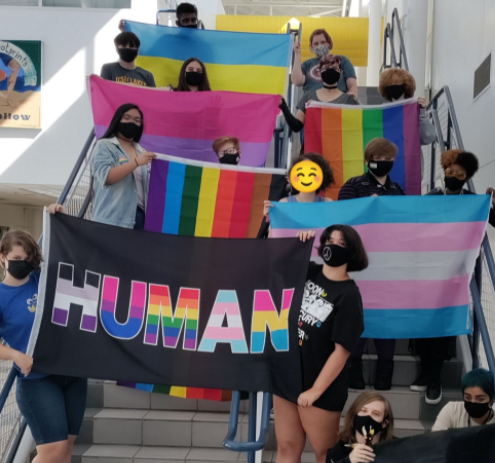 Mai Cao, News Editor
October 15, 2021
Led by sponsors Carrie Jarvis and Nicole Walcott-Elliston, the new Sexuality and Gender Acceptance Club welcomes all at their club's second meeting of the year on Oct. 5.
The SAGA club's members assembled for this meeting to make introductions, play icebreakers, and participate in an activity where each member drew their own pride flag on a Smartboard.
"Last year, we had a much smaller club. But this year, we've had a much larger turnout that I'm excited to work with this year," said Jarvis.
The SAGA club here at Ocean Lakes is not the only sexuality acceptance club in VBCPS, there are many others.
"High Schools like Green Run, Kellam, and Tallwood also have their own sexuality acceptance clubs, who we plan to work with further in the future," said Wallcott-Elliston.
The mission statement and goals for the club this year are to meet people who share the same experiences, in addition to educating teachers and staff alike.
"The best part was just being able to connect with other queer people and making some new friends, I like being able to chat with people similar to me in person because I don't get to spend much time with them outside of school," said senior Ronnie Lopez.
The club is currently active in preparations for Fall fest, the creation of committees, officer elections, and new t-shirt designs.
If interested in this club, students can join the Schoology group with the access code HD22-78NT-S62CJ, where there are updates on when and where monthly meetings will be taking place.
"I wanted to help create an environment where everyone feels welcomed and accepted, I have a daughter that's transgender, so this club means a lot to me, towards understanding and learning others," said Jarvis.