AVID holds first donut fundraiser of the year
Fundraisers will raise money for college campus visits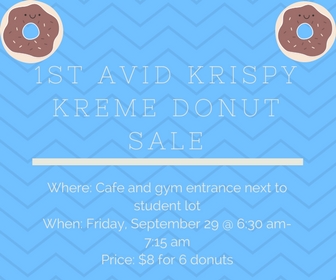 On September 29, AVID sold donuts in the cafeteria and in front of the gym entrance, next to the student parking lot as a fundraiser.
AVID (Advancement Via Individual Determination) is a nonprofit organization dedicated to closing the achievement gap by preparing all students for college and other post-secondary opportunities. Ocean Lakes AVID's new instructor is English teacher Michelle McAfee, who now teaches students the skills and behaviors needed for academic success.
Money raised from the donut sale will be used to improve AVID's access to college campus tours and will also help cover t-shirt printing costs, along with other operating expenses.
The fundraisers will continue the last Friday of every month from September to March. Their first college visit is scheduled for Oct. 4 when they travel to ODU and NSU.