Student athlete nominated for prestigious award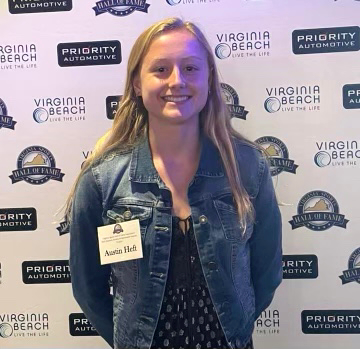 Senior Austin Heft was selected as a finalist for the Hall of Fame's Student-Athlete Achievement Awards. The award requires a 3.0 gpa, a letter in one varsity sport, and a letter of recommendation from a coach or teacher. 
Each winner receives a scholarship award of $1,000. 
"For the past 17 years, the Student-Athlete Achievement Awards have recognized high school student-athletes from Virginia that excel academically, athletically, and in their communities," said Executive Director, Will Driscoll, of the Virginia Sports Hall of Fame.
Along with 15 other finalists, Austin was chosen by a seven member selection committee. 
"This statewide initiative aims to highlight well-rounded individuals that are making an impact both on and off the field. This year alone we received 120 nominations from high schools across Virginia," said Driscoll. 
The four Student-Athletes of the Year will be revealed at the Priority Automotive Lounge at S.B. Ballard Stadium at Old Dominion University on Sunday, Feb. 6 at 3 p.m.
"I feel really honored to be nominated for the award. I wasn't really expecting anything since so many people applied, but I'm super excited and grateful for the nomination," said Heft. 
Heft has won states in both cross country and track in the 4 x 800 and set a new school record for 4 x 800. She has committed to the University of North Carolina at Charlotte to continue her academic and athletic career. 
"My coach always talks about the 'win in the dark moments' of working hard when no one else is watching. I think these kind of extra moments of staying after practice or taking more time to study for a big test are what led to this accomplishment," said Heft. 
Austin thanks her parents and coach, Mike Nestor, for helping her to get to where she is today. 
"I would say my parents and Coach Nestor have helped me the most as a student athlete. My parents have always been supportive of everything I do. Coach Nestor has been great at pushing us as athletes to get better, but also at finding balance and valuing academics over athletics," said Heft. 
Mike Nestor has coached Austin for all four years of her high school career. 
" She is extremely responsible and she pays great attention to details which makes her a great student and a great runner," said Nestor. 
Austin's teammate, Maggie Reed, speaks about her as her friend and teammate for many years. 
"Austin is really hard working and very determined when it comes to reaching her goals," said senior Maggie Reed.