Senior athlete commits to Erskine College for football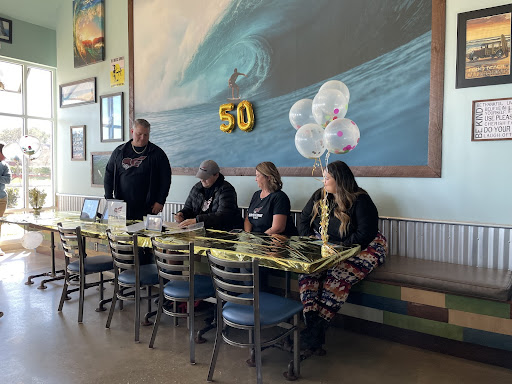 Senior Hunter Dinsmoor, committed to Erskine College to continue his academic and athletic career. He made the announcement on Feb. 20 at Pelons Restaurant in Red Mill Commons and was joined by friends and family. 
Hunter made his decision between three schools: Christopher Newport University, Erskine College and Ferrum College. 
"The reason why I picked Erksine was that it's far from home, I have the ability to play early, and it is going to give me an education in the two fields that I want to study," said Dinsmoor. 
Hunter live-streamed his decision on Instagram as his friends and family were gathered together at Pelons to celebrate his big decision.
"It was such a lively environment, along with all the support that Hunter had there, it was truly a special moment," said Sydney Cortez, who attended the event. 
His passion for football sparked in little league and he knew that he always wanted to play at a further level. Hunter has played for 14 years and is ready to continue his academic and athletic endeavors in the future. 
"When I was young I knew that I wanted to become a professional football player and over the years that idea has not changed. Erskine is going to help me with those dreams as well as my new dreams of studying Psychology and sports management to later become a coach after my football career has ended," said Dinsmoor. 
His high school coaches have played a big impact on his decision and he thanks all of his friends for their constant support.
"Hunter is a great teammate, always there for what he calls his brothers on the team, and does what it takes to win," said teammate and future UVA football player Landon Spell. "I'm excited to see what he'll do at the next level."
In all four years of his high school career, he has spent time outside of practice making highlight films, working out, and emailing many colleges.
"Over my high school career, I have made plenty of visits and emailed at least 100 coaches. I definitely spent many hours making sure that my highlight film was how I wanted it so that I would have the opportunity to be recruited by top-level schools. Working on my craft was also a major part of getting the opportunity to play at the next level. Without doing both of those things, I wouldn't be where I am today," said Dinsmoor. 
Hunter credits much of his success to his coaches. 
"The coaches that made the biggest difference in my career definitely were coach Jones and coach Ramey. Both coaches believed in me. They saw what I would be able to accomplish. They both saw that I had the ability to play at the next level and both of them pushed me. I truly believe they are a major reason why I am able to play at the next level," said Dinsmoor.