Theater Company springs towards Mamma Mia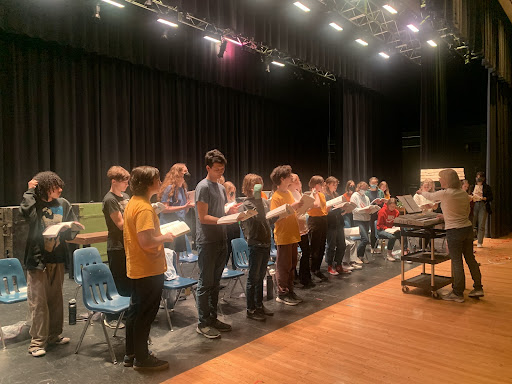 This year's Theatre Company has officially begun to rehearse for their spring production of Mamma Mia.
This early on, rehearsals are primarily focused on going through their numbers with choreography and vocal auditions for Act One. This production respects the original musical, with its beloved songs and popular ABBA soundtrack to sustain the light-footed and up-beat rhythm of the story.
With a cast of 28; twelve portrayed characters with 16 ensembles. The stage will be the grounds for all the classic Mamma Mia characters, including Donna, Sophie and the three potential fathers.
"We were gonna do this play last year but needed a play with a smaller cast, and since this play in particular wasn't always do-able, because it was showing on Broadway, we jumped right on it when it came up, and it's been pretty hectic since," said theatre teacher Claude Blanchard.
Rehearsals are moving fast, two months to perfect two hours. The stage will be set as a Greek hotel, with docks included on the island and to fit the 70's theme, costumes are anything from jumpsuits to dresses – as long as it's disco.
"It's been really challenging, but also really fun. Mamma Mia's a beast of a musical to tackle, but each dance and song is incredibly fun to perform on stage," said junior Caitlin Harrison.
To up the ante, live keyboards, drums and various guitars will be played during the performance for segments of the soundtrack by Ocean Lakes students. They will also feature scenes that only could have been seen on stage that the screen never got, which is being much anticipated within the company.
"I would absolutely recommend seeing our show because of how it's very different than what the OLTC has put on in our previous few years; this show will be filled with catchy songs and extravagant performances that will leave you having the time of your life," said senior Thomas Locke.