Just debate it
Dolphins dominate debate state championships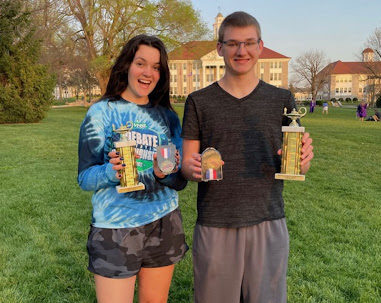 Debate took on the Public Forum category at this year's VHSL debate state championship and came in first.
According to debate coach, Abby Sullivan, Cheyenne Kandiyeli and Jacob Gronniger, both academy students, pulled the win with a "well-constructed and persuasive argument."
Cheyenne gives credit to her partner.
"[We] work really well together. Our strengths and weaknesses compliment each other. We communicate really well," said Cheyenne, a junior.
These competitive debates discuss current events and rely on logic.
"Their rebuttal covered all of the opponent's critical points. Their summary and final focus effectively crystallized the round and zeroed in on the most critical points to drive home their victory," said Sullivan.
Cheyenne enjoys a good argument.
"You have to be able to poke holes in your opponent's case and continue to defend yours," said Cheyenne. 
Two other academy students, along with their coach, attended the state championship at JMU April 23-34, 2022. Mert Yercel, sophomore, and Nash Phillips, freshman, competed in the Policy category. All four earned enough speaker points and won enough matches during Regionals and Super Regionals to compete in States.
"It was very impressive that Mert and Nash made it to States," said Cheyenne. "Considering that they are underclassmen."