"Everyone, do the dolphin rumble"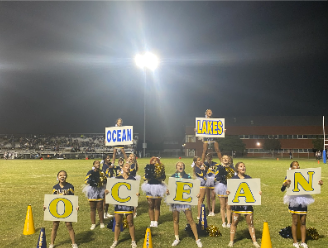 Varsity cheer squad knows how to get the crowd loud.
"The best part of cheering at a game is feeling like a part of a family," said junior Sophia Madinabeitia.  "All of us have one common goal, to give our football team the confidence to do their best, and of course, the student section gives us a lot of love."
According to Sophia, when the football team is doing well, everyone gets super excited, but another way to get everyone to cheer is to have someone in the student section or on another cheer team to start a cheer that everyone knows.
"I think the cheer team affects us students in the stands in a very positive way," said junior Emily Box. "Whenever a cheer starts, we all stand and join in on the singing because it's super fun and a good way of showing our school spirit."
According to Sophia, the best way to get the crowd pumped up is to do crowd-favorite cheers, including "dolphin rumble" and "pump it up." The back and forth between the team and the student section gets the crowd excited and sometimes prompts the cheerleaders to show off some of their skills and tricks.
"My favorite stunt is probably a basket toss, where we throw a girl up in the air as high as we can," said Sophia.
Stunting is when the bases (the girls on the bottom) lift the flyers (the girl on top) into the air and throw them up in the air.
"We started practicing for this season at the beginning of August, and my favorite thing to teach them was stunting," said head coach Hollayanne Chesnut."They make stunts look really easy, but they spend a long time practicing to get to that point."