MSA students explore science and innovation with senior projects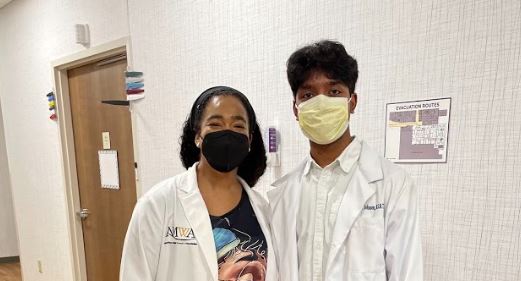 Senior projects are crucial to complete for Math and Science Academy (MSA) students as it is one of the requirements to graduate from the academy. It consists of several steps allowing students to work with professionals in a field of their choice and prepare them for the real world.
"I love seeing students excited to find their way and find opportunities to explore areas of interest. Helping students grow in their professional abilities, like confidence, communication and reaching out to people is one of my favorite things" said academy and senior project advisor Allison Graves.
According to the MSA page on the Ocean Lakes website, there are two types of projects: capstone or research. The project includes topics that are math, science or technology-based as well as 140 hours of independent work, an essay, a virtual presentation and an oral presentation.
"Choosing something that you're passionate about is the key to making a successful project because it won't feel like an assignment that is required for you to graduate," said senior Haven Major.
Students get to work with professionals in a field of their choice as well as have a chance to create meaningful products, such as an illuminating corset to track an individual's heartbeat, or a real snowboard, engineered with understanding in the fields of physics and material science.
"My project is a research project about digestive enzymes and experimental design, and I plan on developing a comprehensive plan and procedure to collect data and analyze that data. Senior projects will go really well if you talk and discuss with your teachers, who teach the subject you are interested in," said senior Aniya Patel.
According to the 2022 Senior Project Gallery, topics that many students choose are computer science, mathematics/business, physics and engineering, laboratory science,  architecture, behavioral science and health science. Sports therapy was also another common topic of interest among students this year.
"I want to inform others about the importance of sports psychology and why it needs to be talked about more with the general public and athletes. It was an engaging project and my other focus was to understand whether this is what I truly want to study in college and potentially my career," said Haven, who has recently shadowed a physical therapist.