Surfrider Foundation Club prepares for a new year of change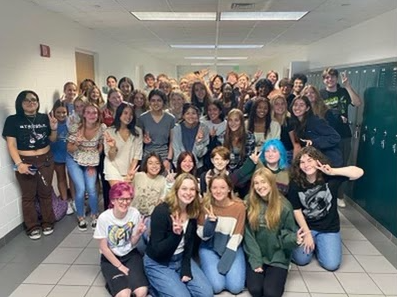 Surfrider Foundation Club held its first meeting of this year on Sept. 26. They plan to host clean-ups to combat pollution at our local beaches such as the Ocean Front and Sandbridge. 
"This year we are working towards implementing a proper recycling program here at Ocean Lakes High School as well as a potential partnership with Athleta, a clothing brand made with recycled materials. However, both of these things are still being workshopped; so, more info to come," said club president Zoe Hall.
According to Surfrider, over 11 million tons of plastic enter the ocean each year. A majority of the trash starts in landfills that are filled past their capacity. Trash that was blown into rivers, stream and streets that lead to storm drains end up in the ocean.
"Currently, pollution can be found over our coastal area here in Virginia Beach after our tourist season. This pollution affects our waterways and ecosystems by harming plants and animals. Whether that may be by physically harming them, like fishing nets entrapping sea turtles; or, by spillage causing a chemical imbalance in the water," said Zoe.
Beach clean-ups are crucial to prevent loose trash from harming marine life and damaging ecosystems. Surfrider Club urges students to get involved and join the club in beach clean-ups to protect the ocean. Getting involved is super easy and does not take a lot of time.
"I am hoping we can have enough members present to cover more ground and really leave our mark. I imagine our club has grown a bit due to the fun we have," said club sponsor Santo Ripa. "There is a positive, exciting, and inviting atmosphere that is created by these kids and it's contagious. The majority of our new members are underclassmen, which is exciting for the future. I guess our kids at OL really enjoy the concept of giving back."
Surfrider Club plans to have monthly beach cleanups and welcomes all to join. To attend the clean-ups, it is not required to be an Ocean Lakes student. Surfrider encourages everyone who is interested to come, as the next clean-up will take place towards the end of October.
"We meet new people from different backgrounds and grade levels and we all bond over our care and appreciation for our beaches. We do our best to prevent pollution. A good number of members attend every event and meeting. We accept everyone and are always looking for a room to grow and be better than the previous year. We're doing something good for our community but worldwide," said senior club member Ava Baker.