AVID class adopts Beach Bags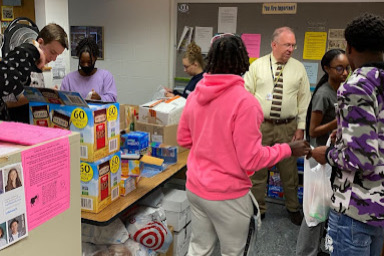 For nine years, Beach Bags has been run by student activity coordinator John Williams, but the AVID class will take on the responsibility in the new year.
Williams, who announced that he will retire in January, wanted to ensure the program's future. He looked for someone to take over to make sure students are not going hungry over the weekends. AVID stepped up to take over Beach Bags as a service learning project. 
"I want to run Beach Bags like a business. Each AVID class will be responsible for the different departments, including ninth graders finance and budgeting, tenth graders marketing, eleventh graders operations, and twelfth graders doing community outreach, PR, and fundraising," said AVID teacher Elizabeth Schur-Badach.
Beach Bags was founded in 2009 by VBCPS, in partnership with the Virginia Beach Education Foundation, and since then, over 200,000 beach bags have been provided to students in the district. Beach Bags are funded entirely through food and financial donations from community members, businesses, and student clubs. 
"I'm excited to participate in Beach Bags because I want to be able to help my fellow dolphins and other students in the community," said AVID 11 student Julianna Lloyd.
The district's goal is to provide meals for every student that needs it, and AVID plans to grow the program, so other high schools can join in to support this effort as well.
"The biggest problem is time commitment, but with AVID having the large number of students participating, they will be able to share the workload involved with all of the working parts of the Beach Bag project," said Williams.
Beach Bags will still have clubs sponsor it for a week, but AVID will run it, buy the supplies, give the bags to the students, and inspire other clubs to sponsor it. 
"I think that AVID is the perfect group to take over Beach Bags," said Williams. "They have students from every class level, and it will be a great opportunity for them to learn real life experiences."