Athletic training leads to health-related jobs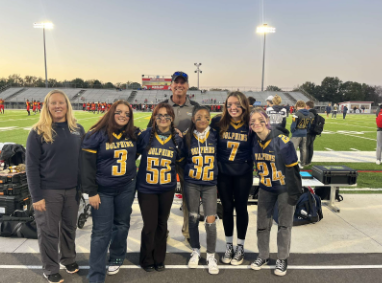 The athletic training team at Ocean Lakes has been a resource to students interested in health-related jobs.
"Many students have joined the team because they have an interest in sports medicine, physical therapy or nursing," said head trainer David Lehan.
Athletic trainers are required to cover both games and practices and work at least two days a week and at least two sports seasons a year. 
"The busiest season is during fall because of football, " said senior Emerson Hudley. "We spend everyday out on the field, so they get the treatment they need."
Athletic trainers learn required skills by attending different skill sessions and from hands-on experiences. 
"I have learned not only how to tape ankles, fingers, wrists and more, but I have also learned how to deal with people in different situations," said junior Taylor Cortez.
To become a part of the team, students need to fill out an application form that can be found in the training room, located next to the girl's locker room. 
"Once a student fills out the application, they will complete a week-long trial to see if athletic training is a good fit for them," said Lehan.