Dickerson wins gold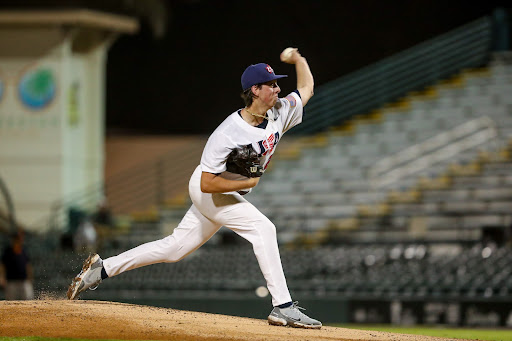 Senior Blake Dickerson strives for gold as he pitches in the U-18 Baseball World Cup. Blake pitched a total of six innings with seven strikeouts to lead Team USA to win gold. 
"Being on the 18U National Team helped teach me a lot of life lessons and open up bigger opportunities to play better competition around the world," said Virginia Tech commit Blake Dickerson.
Blake pitched against the top picked baseball players his age from all around the world. He played teams all the way from China to Mexico. Many of these players, as well as Blake, have trained for months for this moment.
"I was lifting and running all winter and spring to get ready for this summer, but when it comes to the game it's all about performance," said Blake.
Blake, along with his teammates, were prepared to dominate the many challenges and talented players they faced. Preparation led them to persevere against the tough competition and bring home the gold medal.
"We had to help push each other if we wanted to get the gold," said Blake.
Teamwork is what brought Team USA to compete to their best ability and win.
"He inspired me to become a better player and overall person to my teammates," said sophomore teammate Ryan Gocio.
According to Ryan, Blake manages to bring positive energy every day to help the team in a big way. In many ways, Blake is an impactful leader on every team he is on.
"He has been a leader on the field for us from day one, and we are hoping to build on his gold medal with another championship here," said Coach Peter Zell.