New club helps keep military kids Anchored4Life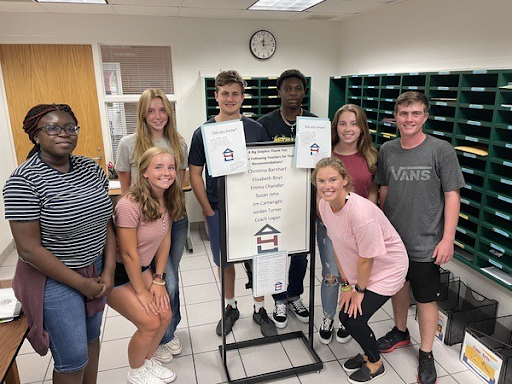 Anchored4Life, a club started this year and sponsored by resource teacher, Meyon Burns, offers support for students with parents in the military.
"Many may not realize the numerous sacrifices that military families make like long-term deployments [at times of both parents], the risk to a loved one's safety, PTSD and transition after retirement, to name a few," said Burns. "What we do know is that young people that feel connected to their schools are more resilient, perform better academically, and report feeling more secure."
The purpose of the club is to connect military students to each other since military students move more than the average. The club is meant to give them a connection to the school and the community. Students were handpicked to lead the club.
"My goals are to establish a club that can grow with students and still meet people where they're at. I believe it has a lot of potential and, as someone military connected, feel that it can be a beneficial resource to people.," said Abigail Johnson.
Abigail is one of 18 students who help lead the club and organize the events, and they do it to help their peers.
"65% of military children reported that they will also join the military; 42% report they experience low mental well-being; 36% shared that they are concerned their food would run out before they had money to buy more and that military children move on average every two and three years," said Burns.
Ocean Lakes has 592 military-affiliated kids, including active duty and retired.
"It's really cool to be part of it. There are only 13 Anchored4Life establishments in total; its first members are selected by other teachers. Mrs. Boys was the one who elected me. I am a military child. Once we were in, we established roles and leadership positions," said junior Hailey Bombard.
Students do not have to be elected to attend events.
"It's a wonderful resource for kids that can meet other kids that go through the same problems," said Karen MacLeod, who is military-related. Her own child went through the same experience.
Anchored4Life is teamed up with the United States military to provide a comfortable transition and flexible club for all youth.
"My hopes are that the actions of Anchored4Life at OLHS will help develop happier, healthier and more confident youth," said Burns.