JV field hockey team's humble start finishes first in the Beach District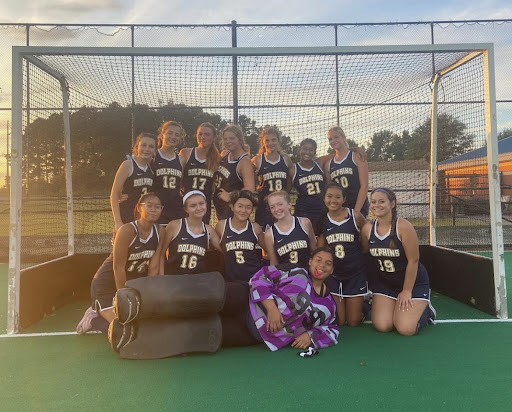 Junior Varsity Field Hockey improves their standing after they took a 3-0 win over Princess Anne on Oct. 6, 2022.
Sophomore Ada Jerabek's three-goal game led to the victory, and she attributes the success to teamwork.
"Our talking and communication has improved," said Ada. "It can help connect passes upfield, which ultimately results in easy goals."
After the first loss of the season to FC, the team focused on how to play more as a unit and cleared up on some rules, bouncing back with a 3-0 win over Kempsville.
"A standout player on the team is sophomore Marlie Smith. Her contribution to the team is significant through her energy and leadership," said Ada.
Dolphins also took an important win over rival school Kellam. They won 1-0 after a goal from freshman Reese Longwater in the third quarter.
"These players never gave up and worked hard every minute they were on the field," said assistant coach Lauren Logan.
Another standout player is Madelynn Dobbins.
"She plays defense, mostly sweeper," said Logan. "As the flier, she could stop the ball before the other team was able to score. I could always count on her to keep the ball away from the goal."
The team finished with a 6-4 record, first in the Beach District.
"As the leadership and communication continue to grow, so will our team and record," said Marlie.