Society of Women Engineers club unpacks engineer industry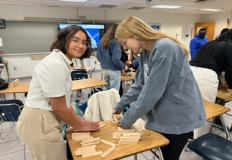 SWE, Society Of Women Engineers, is a club that focuses mainly on what is it like to be a woman in the engineering industry. It is run by Melanie Boyd, but started by Jennifer Leary.
"The most significant part of this club is to help better immerse people in the field, and also learn what kind of challenges women in the field face," said senior Sierra Clark. 
According to Boyd, Sierra is the only remaining member from last year.
Leary created the club to introduce students to women who currently work as engineers, in all different fields, and they aim to discuss what it is like being a woman in a predominantly male field. 
"It is important to inspire students to explore their interests and ultimately, feel confident as the next generation of women in engineering and technology," said Leary.
This club aims to help students get a better understanding of engineering. Most of the members of the club already have an interest in engineering, a desire for math, or enjoy hands-on activities. Joining this club can better prepare members for the realities of the workforce.
"My top school is currently Virginia Tech, and I hope to attend there for their engineering program," said Sierra.
They will have a table at this year's fall festival, and meeting dates are located in the OLHS bookmarks under OLHS announcements.
"SWE provides a community for students with similar interests to network with each other and meets women in STEM and engineering fields to ask questions and gain real-world, practical advice about the career," said Leary.