Spikeball club welcomes new members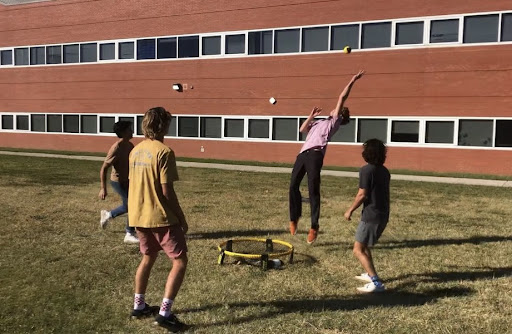 Spikeball Club meets every other Wednesday in room 160 to play Spikeball and is open to anybody who would like to participate.
"We just play Spikeball, have a good time and accept people from never playing, to people sponsored by Spikeball," said Mark Moore, club sponsor. "We are accepting of everybody, and physical activity is good for mental and general health." 
For many members, Spikeball Club gives students a chance to meet new people and make new friends.
"I've met some cool, athletic people who are already pretty involved in school," said junior club member Anna Kain-Kuzniewski.
Spikeball club has been more active since the COVID-19 restrictions lifted, which has helped the club to grow as a whole and welcome new members.
"There's definitely a lot more people, and it's not as difficult to have meetings because there's no COVID restrictions. Also, we can have more tournaments," said Anna.
They had a tournament on Oct. 19, 2022, and hope to have more in the near future.
"We have a Spikeball Instagram, @olhsspikeball, and all information is on the Instagram," said club president Barrett Scharfe. "If you want to join, people can come every other week on Wednesdays to room 160."