Dance team slides into a new season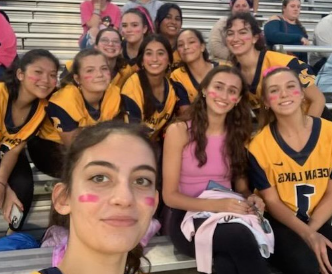 This year's dance team has already performed at two football games, and they cannot wait to do it again. 
"The team is excited to have a normal year back and looks forward to having more performances and being more involved," said club sponsor Jordan Turner. 
In previous years, the pandemic has restricted their ability to perform at school events.  In fact, it has been two years since they were active, and now the students are ready to take it back.
"I am proud of my team for being student-run. They teach each other and make their own dances," said Turner. 
Captains Hadley Branche and Jomari DuPlessis dedicate their time to making dances for the team and then teach the team the routine at practices. Practices are held every Tuesday after school and occasionally Thursday afternoons. 
"We decide what songs we want to use and if we want any specific theme to the song mix, which is the hardest part. Then, we each choreograph different parts of the dance and combine them together with transitions, and viola, we have a routine," said Branche. 
Their performances often take place at football games, basketball games and assemblies, and their most recent performance was Nov. 4, 2022.
"I am so proud of us for thriving after COVID, which made us stop for a couple of years. All of the girls have been working so hard and giving it their all," said senior Sophia Allen.