Dedicated runner goes above and beyond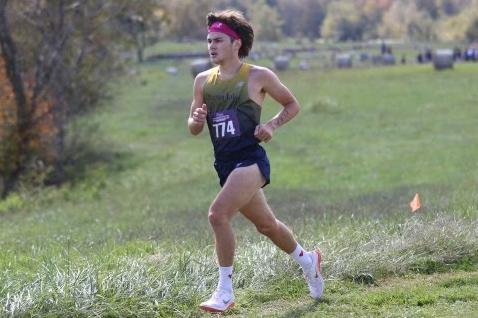 According to his cross country teammates, senior Nick Pham shows leadership, commitment and hard work, and according to his coach, it's his diligence that sets him apart from others.
"What separates Nick from most all runners in our region is a ridiculous work ethic. He has unwavering dedication to improving. Not fatigue, heat, rain or traveling has kept him from running," said coach Michael Nestor. 
Nicks's success comes from this training.
"Between running, stretching and lifting, I'd say I put around 20 hours a week into running. But big races are always on my mind, so as much time as I can put towards my goals, without mentally wearing myself down, I will do," said Nick. 
His training has been proven through multiple personal records, one of which was achieved at the MileStat XC Invitational after he raced a 5k with a time of 15:47.00 on Oct. 15, 2022. Some of his other best races had a time of 4:30.71 in the 1 mile as well as a 9:37.03 attained in the 2 mile. 
Nick not only pushes himself but puts in effort to strengthen and motivate his teammates. 
"Nick has definitely made me a more committed runner, always pushing me to be my best even when I feel like I can't do anymore," said senior Dylan Evans. "He leads the team by setting an example, always going above and beyond." 
Nick recently committed to Johns Hopkins University where he will continue both his sports and academics. 
"My dad, he's always pushed me beyond my limits. Without him, I wouldn't be able to handle the adversity; he's given me the confidence I need to succeed," said Nick.