Teacher's speech brings back an old tradition
At this year's homecoming assembly, wrapping up the homecoming school week, one teacher shared a favorite tradition. In years' past, the assemblies would end with Coach Prince's, and eventually Coach Scott's student empowerment speech, a long-time tradition in Ocean Lakes history — up until Scott left the school two years ago. This year, keynote speaker and P.E. teacher, Yolanda Boothe brought back the tradition.
"They came and asked me … I had to come up with a way to bring it back, so if you were in my ninth grade [P.E. and Health] class, you know the $20 bill thing, I figured it was a good way to introduce it," said Boothe.
She began her speech by using a $20 bill to metaphorically represent a person's value. After crumpling it, dropping it on the floor, and even stepping on it, she demonstrated the idea that a person's value is still the same. Boothe then transitioned into the speech.
Students, especially upperclassmen, were excited about the speech, as it had been two years since they last heard it.
"I was shocked and confused, but excited, and kind of touched actually," said senior Matthew Daily after hearing the speech again.
Underclassmen were delighted by the speech's rebound too, as most of them had previously heard about it.
"I've heard about it before, it was so cool to hear it in person," said sophomore Analise Gonzalez.
Teachers were also thrilled.
"I think that it's one of the most important things we do in assemblies," said English teacher Kristi Bayer.
"It is empowering … and serves a really important purpose," said Bayer, who discussed how the speech has even saved her students' lives over the years.
"It is powerful, it is amazing."
About the Writers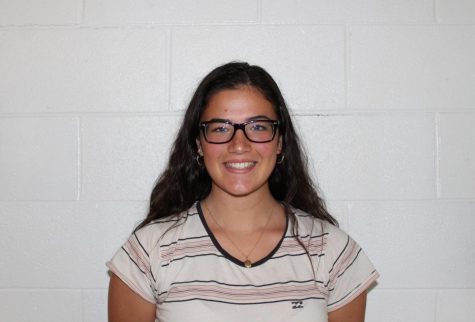 Samantha Simmons, Video and Photo Editor
Sam Simmons is a senior and has been on the journalism staff for two years. Her senior year she holds the position of photo/video editor. She has played...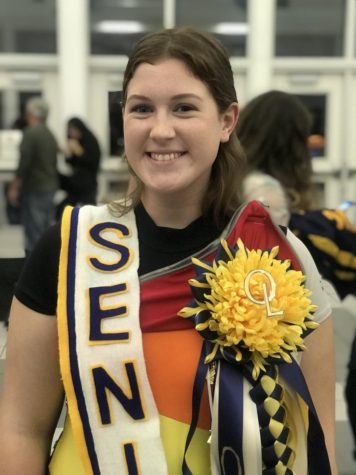 Morgan Bush, Staff Writer
Morgan Bush is a senior, staff writer and social media contributor for the 2018-2019 school year. When she isn't writing for The Current or posting to...