Former swimmer passes down love for the sport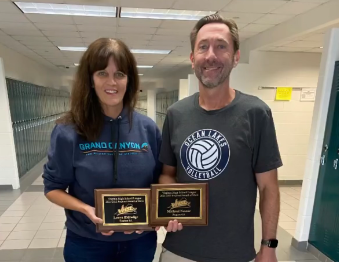 Laura Eldredge dives into her 29th year of her journey as a coach for the girls and boys swim team.
"So far these past years it has been amazing. I love working with types of athletes, all levels from high school swimmers to future division one swimmers," said swim coach Laura Eldredge. 
She started her swim journey back in 1976 in middle school when she lived in California. After she graduated high school, she attended Slippery Rock University of Pennsylvania, where she earned her water polo scholarship.  
"Water polo was absolutely amazing. My college coach was also the United States Women's Water Polo coach. He trained us with the same intensity as he did with his National Team," said Eldredge. 
She has received many awards in her previous years of coaching. She has been awarded Beach District girls coach of the year, Region Six girls swim coach of the year and recently Virginia High School League region 6A award of Merit. 
"I enjoy seeing a swimmer realize when they are capable of more than just being average. They can go faster, it might hurt a little, but if they push through the pain and negative thoughts, they will be surprised and proud of themselves," said Eldredge. 
According to Eldredge, when looking for a good swimmer, she looks for their honesty, leadership, that they are coachable and have the willingness to get out of their comfort zone. 
"She has always supported me and pushed my limits as a swimmer by pushing us during practice," said sophomore Julia Swartzbaugh.  
Eldredge pushes her swimmers to be hard working athletes. 
"Mr. Bostic and Mr. Bedinger have also been very supportive throughout my years of coaching, including the student activities director Mr. John Williams," said Eldredge. 
Dave Bostic and Andy Bedinger also coach the girls and boys swim teams.
"She doesn't let swimmers settle, which I think is an awesome thing," said Bedinger.