DECA members take on competitive events and challenges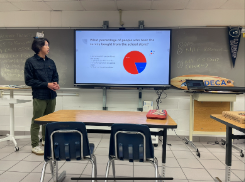 DECA members compete in events and challenges to represent Ocean Lakes at the Convention Center. They prepare and enter into competitions where they use a broad range of business knowledge to respond appropriately, on the spot, to a prompt or scenario created.
"These competitive events and competitions will be a great challenge for our members. I believe that we all have the skills and perseverance to perform very well. We look forward to representing Ocean Lakes," said club president Devin McCall.
DECA offers a range of benefits for its participants. 
According to DECA's website, for one challenge, the top five contestants will win a sum of money. The top prize is $2500 and fifth place gets $250. Placing high enough can get one recognized at DECA's International Career Development Conference in Orlando, Florida. 
"Students who participate in DECA are able to meet other students with similar interests and career goals. The club also prepares you for college, businesses, and future endeavors as it can teach what business is all about. Students can also be eligible for specific scholarships that other students who didn't participate in DECA are eligible for," said club member Tyson Jacques.
The DECA club is currently looking for new members who have a passion for business and making connections. 
"I encourage marketing and entrepreneurship and innovation students to join, as well as students in personal finance to join. Everyone is welcome to come to a meeting and check it out. We offer competitions, service opportunities, travel opportunities, and the pleasure to meet new students around the world at the international DECA conference, which will be held at Orlando, Florida," said club adviser James Cartwright.