Virginia Aquarium turns into a winter wonderland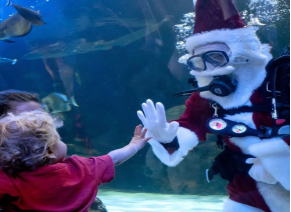 Virginia Aquarium's annual event, Holirays, returns with its mission of educating guests about marine life through a holiday-themed celebration. 
Holirays began in 2020 in response to the pandemic. This event replaced the traditional 'Breakfast with Santa' opportunity the aquarium previously hosted.
For Holirays, the aquarium displays lights and other holiday decorations that guests can view as they walk through each exhibit. They also provide interactive activities for guests to learn more about marine life, such as, exloring adaptations across a variety of animals, crafts, meeting the Grinch and their most popular experience where Santa scuba dives into their shark tank exhibit.
"This event is a unique holiday experience for me and my family. Where else can you see Santa scuba diving and awesome animals at the same time?" asked Program Educator Dorothy Schetzel.