Local Hall of Fame honors Yogi Boothe, homecoming assembly speaker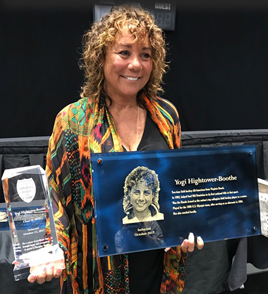 The Hampton Roads Hall of Fame honor outstanding athletes, coaches, administrators, and media members who make contributions to sports in the local area. The Hall of Fame class of 2017 has been selected and will be displayed on the wall inside of Harbor Park in Norfolk. Of the inductees includes Ocean Lakes' very own Yogi Hightower Boothe.
"I was there with Dre Bly, who had a big Super Bowl ring on," said Boothe, "and Charlie Stukes who also had a Super Bowl ring on; then there was little old me."
Boothe was selected for being a two-time Olympian in field hockey, and when she was attending Old Dominion, helped lead them to a national title.
"I was completely shocked when they called me, and my first thought was 'but I'm old,'" said Boothe. "It was very shocking and overwhelming to even be a part of the group."