Scholastic Bowl sweeps through competition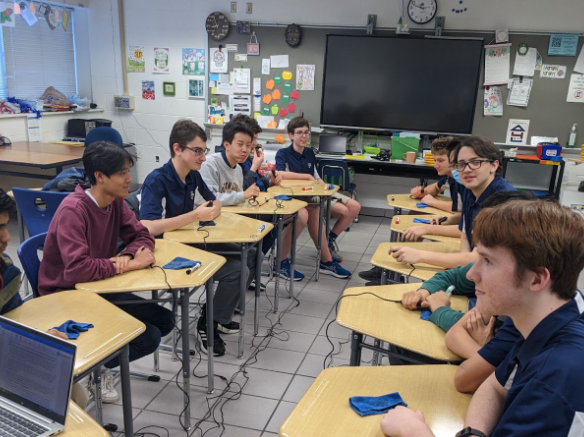 Scholastic Bowl ends their regular season with a match against the Tallwood Lions and prepares for regionals.
With Miranda Blaser as coach and help from team captain and senior Aidan Roullet, who has been on the team since his freshman year, the team dominates the beach with a record of 8-1. Each match is played in two rounds with 50 questions each, broken into three parts. Four players from each team play throughout the rounds and the team makes substitutions at the end of each part. 
"The captain makes the calls for all substitutions during a match. The other players have worked on building their courage to interrupt questions with a correct answer," said Blaser.
Scholastic Bowl is a trivia-style academic sport, similar to Jeopardy, only with longer questions. The sport is very similar to academic challenge, which middle school students participate in. 
"I joined the scholastic bowl team early in my sophomore year, mostly to continue doing what I had enjoyed in middle school academic challenge," said junior Meilin Ranjan.
The team always accepts newcomers who would like to explore the team's purpose, and anyone interested in joining the team can visit room 260, Coach Miranda Blaser's classroom. 
"Even if they join too late to compete, we welcome newcomers to learn the ropes at practices," said Roullet. 
The team practices each Tuesday in room 260, with the exception of weeks with two matches, in which they do not practice.
Scholastic Bowl won Regionals on Saturday, Jan. 28 at home, where they competed against 10 other schools. 
"Scholastic Bowl benefits all of its players even after they stop competing. Each and every one of them is determined to keep learning and expand their boundaries, something that absolutely carries over to the rest of school," said Roullet.