Gym elective options strengthen students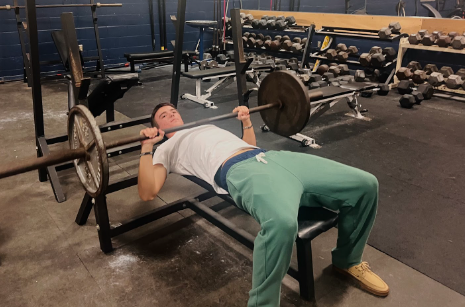 A variety of gym electives provide opportunities, such as weightlifting, CrossFit and recreational activities for juniors and seniors.
101 students took gym electives during term one and 187 students during term two, according to data technician Karen MacLeod. 
"Crossfit is a great team-building class where everyone works towards personal gains, relieves stress, and increases self-confidence," said CrossFit teacher Christopher Barnhart.
Students who take CrossFit learn a variety of workout styles and certain lifts, allowing goal setting and achieving.
"CrossFit has been very beneficial to me because it helps keep me in shape during my off-season," said senior volleyball player Chelsea Pace. 
Weightlifting, taught by Christine Thornton, Pete Zell and James Yeager, also serves as another option to help students get in shape and work on their fitness goals.  
"It is a great break during the day to be active in something you enjoy with other students," said Christine Thornton, who teaches weightlifting and ninth grade P.E.