Tips and tricks to get a job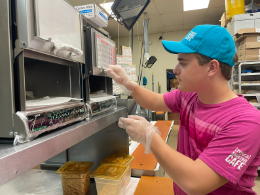 Difficult and time consuming are just a few words to describe what it takes for a high schooler to find their first job, let alone any job. Check out these tips and tricks on how to make the job search process easier and stress free.
Many students begin to search for jobs once they turn 16. Getting a first job is a big leading step to becoming more responsible and gaining valuable experience. 
"Obtaining a job as a high school student allows you to begin developing the necessary skills for life after graduation," said senior Devin McCall. "Working allows one to deepen their collaboration, teamwork, and leadership skills. It also teaches time management and enforces responsibility as a student and employee."
Employers seek candidates that display responsibility, motivation, organization and have a positive attitude. Traits such as ambition and determination show potential employers that the student is worth the investment and chance. Show authenticity in a job interview by being yourself. Employers can sniff out an imposter with a resume, and so be sure your resume is truthful. Resumes provide a great way to present oneself and their capabilities to an employer. Take time to cater a resume to each employer, according to school advisor Brittany Thompson.
"A resume is essentially a snapshot of oneself on a single sheet of paper. Google Drive has some excellent resources and templates for creating a resume. It is important to include personal contact information, academic and career goals and how the company would benefit with your employment," said Thompson. "Be sure to include all educational backgrounds. Any additional information, such as extracurricular work, volunteering and references is vital for questions the employer they may have."
Finding what to wear to an interview to secure the job may be found trivial. Do not fret, business attire may not be required.
A button down shirt with a pair of khakis, for example, is easy and shows the employer that the student is organized, mature and properly prepared for the interview, according to marketing teacher Jim Cartwright.
 "You should dress well for the job that you want, even if the place is casual. A tie separates one from other candidates, and it shows that they are caring and respectful," said Cartwright. "The management team will give the proper dress code once the hiring process is complete and will appreciate the time taken to do that in the first place."