Virginia Beach celebrates Season of Nonviolence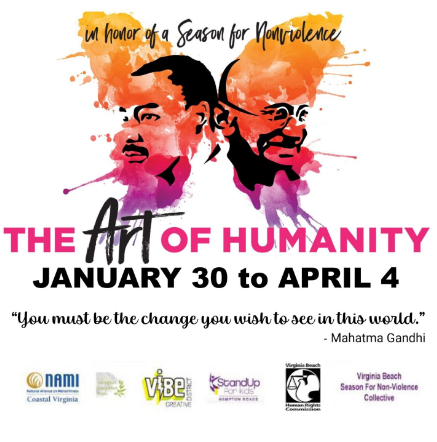 The Season for Nonviolence, established in 1998 by Arun-Gandhi, celebrates the lives of Mahatma Gandhi and Martin Luther King Jr.
Annually, from Jan. 30 to April 4, this global campaign promotes the power of nonviolence, along with creating peace in communities.
The dates represent memorials for the assassination of Gandhi on Jan. 30, 1948, and King on April 4, 1968.
In 2018, Virginia Beach's ViBe District began to participate, and they kicked off this year's season of nonviolence on Jan. 30, 2023.
Students from all over the beach read speeches and shared hand-painted rocks that showed positive messages and the benefit of non-violence. Volunteers planted a new wooden bench built by VOTech students, honoring those in the community who lost their lives due to violence last year.
This year, VBSchools encourages students to get involved. Join ViBe District in its efforts. Contestants can submit an original poem or poster for the following themes: overcoming challenges, resolving conflict peacefully and supporting each other in the spirit of togetherness and infinite hope.
According to Meredith Hobson, a coordinator from the Office of Diversity, Equity, and Inclusion, students can submit entries to the front office, by March 27, where entry forms are available. Posters should be 8.5″x11″ and poems should be 150 words or less. Poems can also be submitted online, emailing [email protected]
As a response to the contest, freshman Nitza Lawler wrote a poem entitled, "War Is Not The Answer."
"My grandfather was a Marine. He told me stories, and I got inspired by what he said to me," said Nitza. "He escaped death during the Vietnam War. He had five kids at home when he was at war. It was important that he could make it back home."
M.K. Gandhi's Institute for Nonviolence invites people to take a Pledge of Nonviolence: pledge to understand nonviolence, work to grow compassion for all humans and work to create a more just, peaceful and loving world. 
More information can be found at gandhiinstitute.org.