Weighted and unweighted GPA, what is it?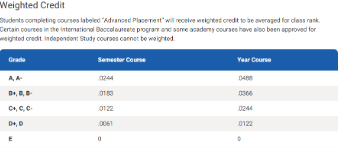 All students receive weighted and unweighted grades, even though most students struggle to understand them.
"AP and IB grades are weighted, meaning if you get an A, an AP grade will be calculated greater than a 4.0," said counselor Susan Sigler.
In VBCPS, students have their grades measured on a certain scale, unique to the school district. Unweighted grades are only based on a 4.0 scale, while weighted grades are based on a 5.0 scale.
An A or A- in an AP course will give students a GPA bonus of .0448. A B+, B or B- in an AP course will give students a GPA bonus of .0366. A C+, C or C- in an AP course will give students a GPA bonus of .0244. A D+ or a D in an AP course will give students a GPA bonus of .0122.
"It looks better to take only one or two AP classes per school year and get A's in those classes, rather than to take 4 AP classes per school year, where you are only getting a C in the class," said counselor Brittany Thompson.
Having a boost in GPA along with the shown ability to handle college-level courses pushes some students towards taking an AP class they have an interest in that they wouldn't take otherwise.
"I was aware that AP classes had the ability to change my grades more than regular classes, which led to my decision to take them," said junior Ethan Fortuna.
Core classes such as electives and required courses only affect unweighted GPA. Even though these courses aren't as rigorous, colleges still take unweighted GPA into great consideration.
"Colleges and universities tend to prioritize unweighted GPAs over weighted GPAs. When looking at unweighted GPAs, admission offices are able to compare your base grades with other applicants from your school district," said Thompson.
Challenging oneself with rigorous classes shows college's determination, as well as willingness and drive.
Even though it is great to take as many AP classes as possible to increase the chances of getting into good colleges, it is also very important to maintain a balance in life.
"Students should challenge themselves by taking the most rigorous courses available if those classes are in the student's field or major while keeping a healthy work/life balance," said Sigler.