From the emergency room to school clinic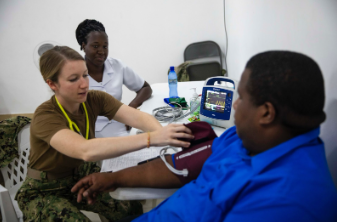 "I decided to be a school nurse because I had such a positive experience in school and wanted to be able to help other students experience that too," said Sarah Fridley.
Fridley transitions from working in the emergency room to being a first-year school nurse. 
As an undergraduate, she attended the University of Virginia for her Bachelor of Science in Nursing. During these four years, she also attended the Navy ROTC.
"I specifically wanted to be in a high school because I enjoy getting to assist with the development of independence and autonomy with the students," said Fridley. 
Shifts in the ER are usually 12 hours long, and oftentimes, she had to work the night shift. Due to this demand of a schedule, Fridley gained motivation to become a school nurse because it allowed for a more consistent lifestyle.
Fridley has earned many certifications that have brought her to where she is today. She has earned her CPR, Trauma Nursing Core Course, Advanced Life Support, Pediatric Advanced Life Support and Chemotherapy Provider certification throughout her journey. 
"I enjoy her enthusiasm, and she is a reliable resource in the office," said assistant nurse Nina Ransom. 
Now a part of the dolphin family, according to Fridley, she feels welcomed, and students make her smile. Every student who walks into the clinic could need help, and for that reason, she is prepared.
"I'll go visit Mrs. Fridley throughout the day, and she always has me leave with a big smile on my face," said sophomore Lucy Goodloe.