Mothers share their concerns, in hopes to save a life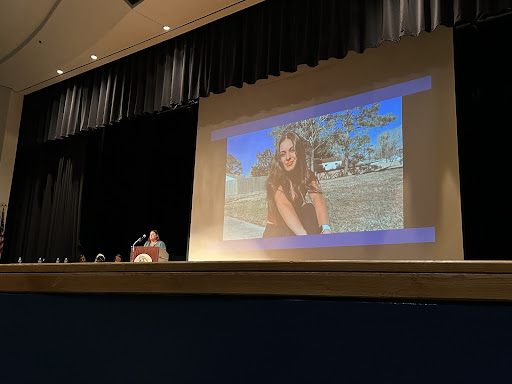 Shannon Doyle and Carolynn Weems warn students about the dangers of opioids. Some of the same students walked the halls with Doyle's late daughter, 16-year-old Makayla Cox.
These mothers came to speak at Founders' Week 2023.
Doyle stood on the stage and told students how Fentanyl could stop their hopes and dreams from becoming a reality. She then informed the students of Makayla's dreams, the ones she never got to chase. Makayla was an honor roll student whose interests consisted of gymnastics and cheerleading. Growing up, she wanted to become a doctor, but after learning math was a big factor in pursuing medicine, she decided she wanted to be a lawyer.
"I stand up here and tell you Makayla's story, but I want you to tell your own, instead of someone else standing up here and talking about everything you could have done," said Doyle.
Carolynn Weems, another mother who lost her daughter to opioids, is a member of the Virginia Beach City Public School Board and a church youth director and teacher. She founded 'Caitlyn's Halo' in honor of her daughter who died from a heroin overdose in 2013.
"I wanna introduce you to someone very special," said Weems, speaking about her daughter, Caitlyn.
Weems began her 10-minute presentation with statistics on drugs, followed by educating students on what addiction truly is, and how it can affect the teenage brain. Weems then encouraged students to reach out for help, which she wished her daughter did before she passed away on April 30, 2013. 
"The doctors prescribed her heroin, but they called it something else. They called it Percocet, then the next doctor would call it Oxycodone," said Weems. "Now we know, all these prescription drugs have opioids, they come from the same plant, they are very addictive."