Art students take on New York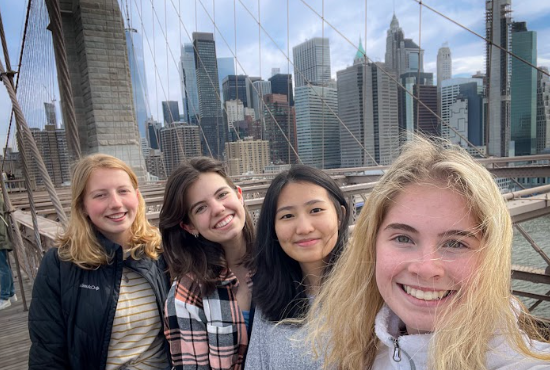 New York City, one of the liveliest cities for a field trip. Tall skyscrapers invade the sky, infinite sounds of cars resound off the concrete jungle, billboards plague every building and people rush past each other filling the streets.
This past week, Art and Marketing students took a trip to The Big Apple. Traveling for eight hours with fellow classmates and teachers, students got on the bus at 11 p.m. on March 21 and came back the evening of March 24. 
"We looked through a lot of stores and we had Mediterranean food at the [Chelsea] Marketplace. It was so good," said senior and AP Art History student Kelly Wai.
But the food doesn't compare to the many other activities. They saw the Blue Man Group with creativity and bright lights embedded into the show as well as a four hour cruise filled with dancing and music on the ship's dance floor.
"The cruise was what we did on the first night in New York City. Everyone enjoyed it and we went at seven when it was still light outside and we enjoyed the buffet. We enjoyed the sunset and went past the Statue of Liberty. The dance party was the best time and the DJ was really cool," said art teacher Abbigail Sullivan.
Along with visiting famous landmarks like the Statue of Liberty, they enjoyed time at Dave & Buster's, where they spent their time playing arcade games. Students also visited art museums such as the Color Factory, the Hall des Lumières and the Metropolitan Museum of Art.
"My personal favorite sections we saw were the Etruscan and Hellenistic Eras at the Met Museum because I got to study them in AP Art History. It's super cool being able to see the actual artwork we studied," said senior and AP Art History student Elizabeth Strong.
A view into NYC's architecture also became a highlight of the 3-day trip. The St. Patrick's Cathedral near the Rockefeller Center embodying 1800s architectural styles, the Vessel close to the Hudson Yards and the famous Brooklyn Bridge were a few of the buildings that the classes visited.
"We didn't walk the whole thing, more like halfway. We walked enough so we could turn back and look to see Manhattan and all the buildings around us," said Kelly.