NHS inductions foster the next generation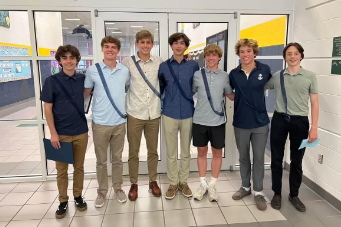 The National Honor Society (NHS) holds the induction ceremony on April 20, 2023. Guest speaker and former seal, as well as the founder of The Word of Honor, Louis Shepard is invited to speak and encourage the next generation to uphold NHS standards. A total of 100 inductees will be attending the ceremony.
Thomas Locke and Reid Rasmussen, co-chairs of the event, are organizing the event, along with academy advisor Allison Graves and NHS volunteer members.
"This year, our goal for NHS is 'Foster Growth.' We also do our best to embody the four pillars of NHS: character, leadership, scholarship and service through service projects and park clean-ups," said Reid, co-chair of the induction committee.
NHS is a community-driven organization that gives students a chance to meet with like-minded individuals and learn from one another.
"I heard that NHS helps a lot of people and that is something that I want to be a part of. I want to volunteer in our community and I am excited to meet new people," said junior Lex Wolf.
Students get the opportunity to be in a leadership development environment and give back to their community in several ways, such as picking up trash, raising money for charities, hosting food drives and donating blood.
"I'm really excited to be a part of NHS because of all of the amazing opportunities to help the community and make connections with my peers," said junior inductee Teagen Alexander.
As co-chairs, Reid and Thomas have high expectations for the inductees.
"I hope the inductees will participate and bring new ideas that they will put into action next year," said Reid.