Concert season ignites excitement among locals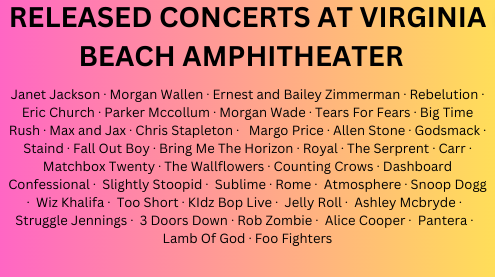 This year's lineup of artists and bands for the 2023 concert season at the amphitheater continues to grow. Famous artists, such as Morgan Wallen, Chris Stapleton, Snoop Dogg and more, head to Virginia Beach to bring the heat. 
Talk about heat, the amphitheater caught on fire March 3, 2023. 
"When engines arrived, they found heavy fire coming from the rear of the amphitheater," according to 13News Now. "It took additional crew and several stretch hose lines, but by 2:30 a.m, the fire was fully under control."
With no delays to any concerts the amphitheater continues to operate with a seating capacity of 20,000 with five parking lots. The facility has two seating areas, one underneath a canopy and the other out on the lawn. 
"The theater was opened in 1996 and has over years increased in popularity due to its perfect summer location and large seating capacity," according to the Virginia Beach Amphitheater website.
Many artists and bands will continue to announce their arrival to the amphitheater. Tickets are sold on many sites, but mainly on Ticketmaster or Live Nation.
"I'm excited to go to Big Time Rush on July 8 because it will be a great time to bond with friends while listening to my childhood music," said sophomore Madison Moore. 
With school coming to an end and warm weather arising, locals prepare for the start of the 2023 concert season. 
"Right now we are in preparation to get everything straight for the first concert on May 1, 2023, which is Janet Jackson," said Jay Seacrist, Live Nation employee.