JMU commit steps up to the plate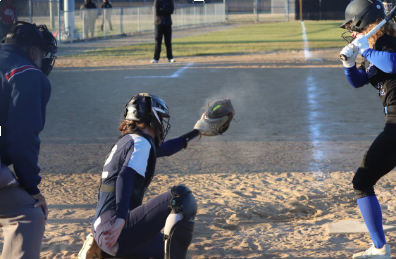 Senior softball catcher Ashley Bush returns to the diamond to play her final year as a Dolphin. The JMU commit looks to lead the team to yet another successful season.
"Some things I want to be able to carry with me to JMU are my leadership and my ability to communicate with my teammates. I'm also looking forward to learning from the upperclassmen," said Ashley. 
The Dolphins currently stand 11-5, and they will play Kellam on May 9, 2023. Ashley hit her first home-run of the season against Kempsville, and she hopes to keep adding to her achievements.
"It was an amazing feeling and I knew right off the bat that it was going over. Crossing home plate with my team there, pumped our energy up for the rest of the game," said Ashley.
Ashley is a positive influence for the team on and off the field.
"Ashley Bush's play is contagious. She can hype up the whole team with her energy," said teammate Devin Mccall.
Ashley has been a member of the varsity softball team since her freshman year, and she has shown tremendous growth in her play since then.
"Ashley has grown into an amazing player over the past four years here at Ocean Lakes. I've seen her improve year to year with her skills behind the plate as well as a hitter," said head coach Michael Pollock.
In season, Ashley lifts with her weightlifting class at Ocean Lakes during the week and on the weekends she lifts at a public gym.
"She is one of the toughest players we've ever had at Ocean Lakes. Her gritty style and hard nosed attitude really makes her stand out on the field. We are lucky to have her as a Dolphin," said Pollock.