A look behind the lens
Alumni claims photography offers creative freedoms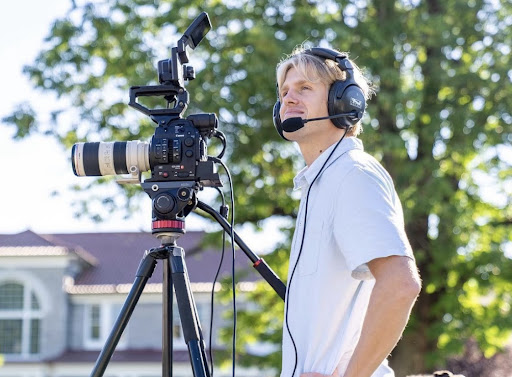 With a single click, Ocean Lakes alumni Cameron Houck photographs eye-catching moments. Using just a camera, he tells a story with a still photo.
"I love photographing sports and performances. Getting to capture something dramatic that tells a story is really important to me, and I will take any chance I can get to take pictures of people doing what they love," said Houck.
Houck expressed how he's been into photography since he was young.
"I got into photography at a young age when I would always use my GoPro camera to film friends surfing and skateboarding. It was always just a hobby that I did occasionally to get pictures of my friends doing cool things," said Houck.
He graduated from Ocean Lakes High School in 2018 and graduated from James Madison University in 2022. While he was a student at JMU, he became a content producer intern. He took photos and videos of the students and events that would soon be posted on different social media accounts for JMU.
Although he is popular in photography at JMU, he tends to stay close to his roots in Virginia Beach.
"My favorite place to take pictures is at Sandbridge. I grew up on that beach and it is constantly offering me new ways to flex my creative muscle," said Houck.
Houck explained how he loves that photography has no end to creative freedom.  He claims it is a stress reliever for him and that he doesn't believe it needs any big equipment if someone is interested in pursuing it.
"If you are looking to start photography, don't worry immediately about the equipment you have. Most people think you can only be good if you have special equipment, but the photo comes from your own creativity," said Houck.