Chorus teacher William Boardman takes us on his musical journey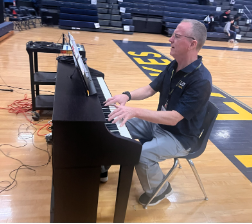 As a musician, and music teacher, William Boardman has traveled far to get to Ocean Lakes. For 16 years he traveled up and down the East Coast: South Florida; Atlanta, Georgia; and Virginia Beach, Virginia.
As Boardman started piano at the age eight, and started playing the trumpet in junior high and high school, and has been engaged in multiple bands as the piano player since college. Boardman has played in one smaller band after high school, two college bands, and six after college. 
Why did Boardman want to do a career in music?
 "I was just naturally good at it. It took me a couple years to figure out this is what I wanted to do, but it was the right fit. I had a "A" in piano class, and it just inspired me because I have a ton of teachers in my family," said Boardman.
Boardman is an incredible piano player as he can just listen to a song and in a couple minutes, can figure out what chords they are. 
"Every student. Every note. Every time," said Boardman almost every class.
Boardman spends quite a bit of time working with students during his third block. He is helping students join chorus for the following year while he also helps the seniors prepare for their senior spotlight. 
As he is a bass in the music field, he will hit those soprano high notes to help the sopranos practice.
Boardman teaches Music Theory, AP Music Theory,  Mixed Chorus, Lady Madrigals, and Madrigals.
"For one I enjoy the jobs I do and two I just really enjoy it, I love it, it's great," said Boardman.