In its first official year, girls varsity lacrosse makes history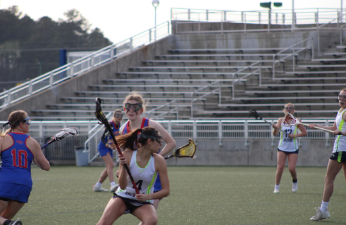 Girls varsity lacrosse dominates in the regular season with an impressive record of 11-1. The girls make history as they rank first in the region in the sport's first VHSL spring season ever. 
The team averages a stunning 14 goals per game before their playoff games. 
"Our team had good communication skills and a positive attitude. Since the beginning of the season, we have made plenty of mistakes, but it was the willingness to learn that made our team successful," said senior Sydney Schneider.
The girls made a big statement in their first playoff game against the Manchester Lancers on May 20, 2023, with a final score of 18-1.
With the same intensity, the team controls the pace of the game and secures their second playoff win against the Kellam Knights.
"It was great to see our team work together and fight for our place in regionals and for states. It was super rewarding beating Kellam as we knew it would be a tough game, but our teamwork and communication helped us come out with a win. It has been a great season as we head into our state game," said senior Alayna Caravas.
The girls made it all the way to the championship against Midlothian Cosby with a final score of 16-4.
Ocean Lakes first girls varsity team's overall performance places them at 2nd in the region and they will continue to compete at states.
"Getting the chance to make it and qualify for Regionals is a monumental accomplishment for us as we are a brand new sport to be added into the program. It was great to see how much our team has grown from pre-season to post-season, the girls have received a historic opportunity to play and practice on the first Ocean Lakes girls Varsity Lacrosse team. Our runner-up title at Regionals on the 26th shows that our team will have a bright and promising future as we continue to grow. I am so excited for what is to come in the future for us," said senior team captain Britney Yang.