Rev up some engines for this hands-on experience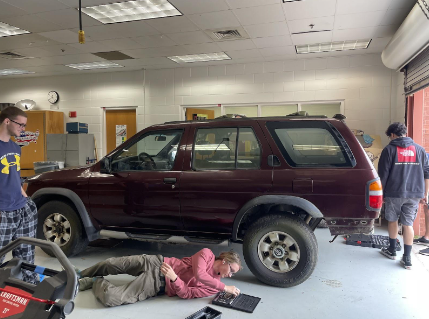 Technical and career teacher and department chair Scott Sonier and fellow colleague Rob Stover foster teamwork and career skill development for young and inspired students. They provide students with hands-on learning experiences such as repairing vehicles. 
 Stover even purchased an old Nissan Pathfinder for his students to practice and build their mechanical skills.
"I bought a beat-up car to work on with my own money for the class. We are turning the car into a daily driver," said Stover.
While Stover teaches students valuable skills as well as preparing students for situations where their car may need maintenance repairs, some students are practicing their skills for the opportunity of getting a job after graduation in the auto mechanic field.
"I chose this class so I can learn how to switch my oil and change my tires, stuff like that, I want to be able to take care of my car in the future without the expense of having to hire someone else to do it from lacking the knowledge to fix the car myself," said senior Lakota Michie.
Students enjoy the unique opportunities that Sonier and Stover provide.
"I had an interest with Ford engines for a while and it seems fun," said Devin.